Zoho One Authorized Partner
Sales & Service, Implementation and Support
Transform Your Business with Zoho: Anantara Accounting, Your Trusted Authorized Partner
Welcome to Anantara Accounting, the leading accounting solutions provider in Dubai, UAE. We are proud to be an authorized partner of Zoho, a global leader in cloud-based business software. In this article, we will explore the immense benefits of Zoho's robust suite of applications and demonstrate how Anantara Accounting can help your business thrive with these cutting-edge solutions.
1. Streamline Your Financial Operations:
Managing finances is a critical aspect of any business. With Zoho's powerful accounting software, you can automate and streamline your financial operations, making them more efficient and error-free. Anantara Accounting will assist you in implementing Zoho Books, ensuring that your invoices, expenses, and financial reports are accurate, accessible, and up to date. Say goodbye to tedious manual bookkeeping and embrace a system that saves you time and effort.
2. Enhance Collaboration and Communication:
Effective collaboration and communication are crucial for success in today's fast-paced business environment. Zoho offers a suite of collaborative tools that enable seamless communication and teamwork. Anantara Accounting will guide you in implementing Zoho Cliq and Zoho Connect, allowing your team to collaborate effortlessly, share information, and stay connected from anywhere, anytime.
3. Optimize Customer Relationship Management (CRM):
Customer satisfaction is paramount for any business's growth. Zoho CRM empowers you to build strong customer relationships, enhance sales productivity, and track customer interactions effectively. With Anantara Accounting as your Zoho authorized partner, we will help you integrate Zoho CRM seamlessly into your existing processes, enabling you to nurture leads, close deals, and provide exceptional customer service.
4. Automate HR and Payroll Processes:
Managing human resources and payroll can be complex and time-consuming. Zoho People offers a comprehensive HR management system, automating essential HR functions such as employee onboarding, leave management, and performance tracking. Anantara Accounting will assist you in integrating Zoho People, enabling you to streamline your HR processes, boost efficiency, and ensure compliance with local regulations.
5. Secure Data Storage and Collaboration:
Protecting your sensitive business data is of utmost importance. Zoho's cloud-based solutions provide robust security measures, ensuring that your data remains safe and accessible only to authorized personnel. Anantara Accounting will guide you in implementing Zoho WorkDrive, a secure file storage and collaboration platform, allowing your team to store, share, and collaborate on files securely.
6. Gain Valuable Business Insights:
Informed decision-making is the cornerstone of success. Zoho Analytics offers powerful reporting and analytics capabilities, enabling you to gain valuable insights into your business performance. With Anantara Accounting's expertise, you can harness the power of Zoho Analytics to create customized reports, track key metrics, and make data-driven decisions that drive your business forward.
7. Seamless Integration and Scalability:
Anantara Accounting understands that every business is unique, with its specific needs and requirements. We will work closely with you to customize and integrate Zoho's suite of applications seamlessly into your existing workflows. Whether you are a small startup or a large enterprise, Zoho's scalable solutions, coupled with our expertise, will cater to your growing business needs.
Anantara Accounting can help you with managing your subscriptions efficiently using Zoho Subscriptions. Subscription management can be challenging, but with Zoho Subscriptions, you can streamline the process and ensure that your company's revenue is protected. As an implementation partner for Zoho Subscriptions, Anantara Accounting can provide you with expert assistance in handling your subscription and billing management needs.
Zoho Subscriptions offers a wide range of features that make it a comprehensive solution for subscription management. Here are some of the key features:
1. Automated Recurring Billing: Zoho Subscriptions automates your recurring billing process, ensuring that your customers are charged correctly and on time.
2. Tailor and Send Invoices: You can send personalized invoices to your customers, customizing them with your company's branding and including relevant information.
3. Proration and Automatic Billing: Zoho Subscriptions automates the process of proration and billing for subscription upgrades or downgrades, making it easy to manage changes in customer subscriptions.
4. Global Billing and Compliance: If your business operates globally, Zoho Subscriptions offers editions tailored to different countries, helping you stay tax-compliant across borders.
5. Secure Payment Processing: Zoho Subscriptions is a PCI-compliant platform, ensuring that your customers' credit card information is handled securely.
6. Multiple Subscription Management: With Zoho Subscriptions, you can manage multiple subscriptions for customers, including sending consolidated invoices and adjusting credits.
7. Flexible Pricing Plans and Trials: You can easily add and manage multiple pricing plans for your products or services, including offering trial periods to attract potential customers.
8. Coupons and Discounts: Zoho Subscriptions allows you to create and manage coupons, enabling you to promote your business and increase sales.
9. Self-Service Portal: Your customers can access a self-service portal provided by Zoho Subscriptions, where they can view subscription details, update their information, and more.
10. Pause and Resume Subscriptions: Customers have the option to temporarily suspend their subscriptions, helping them save unnecessary expenditures without canceling their subscriptions.
11. Customizable Invoices and Payment Pages: You can customize your invoices and payment pages to reflect your brand's identity and provide a seamless customer experience.
12. Detailed Reports and Insights: Zoho Subscriptions provides comprehensive reports and insights to help you track and analyze your subscription business's performance.
13. Integration with Zoho Books: Zoho Subscriptions seamlessly integrates with Zoho Books, ensuring accurate accounting and financial reporting for your subscription revenue.
14. Developer-Friendly APIs: Zoho Subscriptions offers open APIs that allow you to customize and integrate the software with your existing systems.
With Anantara Accounting as your implementation partner, you can leverage the power of Zoho Subscriptions to efficiently manage your subscriptions, billing, and revenue. Our team at Anantara Accounting will assist you in setting up and optimizing Zoho Subscriptions to meet your specific business needs.
Unlock the power of Zoho One: The Ultimate Suite for Your Business
ZOHO BOOKS AUTHROIZED PARTENERS
Anantara Accounting, as an authorized partner of Zoho, offers you a comprehensive range of cutting-edge solutions that will transform the way you do business. From streamlining financial operations and enhancing collaboration to optimizing HR processes and gaining valuable insights, Zoho's suite of applications will empower your organization to reach new heights of efficiency and productivity.
Partner with Anantara Accounting and leverage our expertise to implement Zoho's solutions tailored to your business requirements. Contact us today and embark on ajourney towards streamlined operations, enhanced customer relationships, and sustainable growth with Zoho's powerful tools.
Before you enter into any Financial Crisis due to lack of proper Accounting:
Unlock the Power of Zoho One: The Ultimate Suite for Your Business
Discover a world of possibilities with Zoho One, the comprehensive suite of business applications that empowers you to streamline your operations, enhance productivity, and achieve remarkable growth. With over 45 integrated applications, Zoho One is the ultimate solution that caters to all your business needs. Explore the power of Zoho One and revolutionize the way you work.
All-in-One Solution: One Suite, Endless Possibilities
Say goodbye to the hassle of managing multiple applications. Zoho One brings together a wide range of powerful tools across various business functions, including sales, marketing, finance, HR, operations, and more. Whether you're a small startup or a large enterprise, Zoho One provides a seamless experience, enabling you to focus on what truly matters – growing your business.
Collaboration Made Easy: Connect and Communicate
Break down the barriers to effective teamwork and collaboration. Zoho One offers an array of communication and collaboration tools that facilitate seamless interactions within your organization. From email and chat to project management and document collaboration, Zoho One empowers your teams to collaborate effortlessly and drive productivity to new heights.
Insights that Drive Growth: Business Intelligence at Your Fingertips
Make data-driven decisions and gain valuable insights into your business with Zoho One's powerful business intelligence tools. Unlock the potential of your data with advanced analytics, customizable dashboards, and real-time reporting. Track key metrics, monitor performance, and identify growth opportunities, all within a unified platform.
Automate for Efficiency: Streamline Your Processes
Efficiency is the key to success in today's fast-paced business environment. With Zoho One's automation capabilities, you can automate repetitive tasks, streamline workflows, and save valuable time and resources. From lead management and customer support to invoice generation and inventory management, Zoho One helps you automate your processes and improve operational efficiency.
Customization to Fit Your Needs: Tailor-Made for Your Business
Every business is unique, and Zoho One understands that. Customize and configure applications to fit your specific requirements without the need for complex coding. Zoho One's flexible and scalable platform allows you to adapt and grow as your business evolves. Create a solution that aligns perfectly with your organization's needs and accelerates your success.
Security and Reliability: Trust in Zoho's Robust Infrastructure
At Zoho, we prioritize the security and privacy of your data. With Zoho One, your sensitive information is protected by industry-leading security measures, ensuring your peace of mind. Our reliable infrastructure ensures seamless access to your applications, with minimal downtime. Focus on your business while we take care of your data.
Unmatched Value: Simplify Your Costs
Zoho One offers an exceptional value proposition, providing you with access to all applications at a fraction of the cost. Forget about the complexities of managing multiple subscriptions – with Zoho One, you get all the applications you need in a single suite, making it easy to manage your software costs and maximize your ROI.
Get Started with Zoho One Today!
Join the thousands of businesses worldwide that have already embraced Zoho One and transformed the way they work. Contact us at [Your Contact Information] to discuss your business needs and explore how Zoho One can empower your organization. Experience the power of integration, collaboration, and innovation with Zoho One.
A VAT-compliant, unified platform for all your back office needs.
Everything you need to manage your operations and finances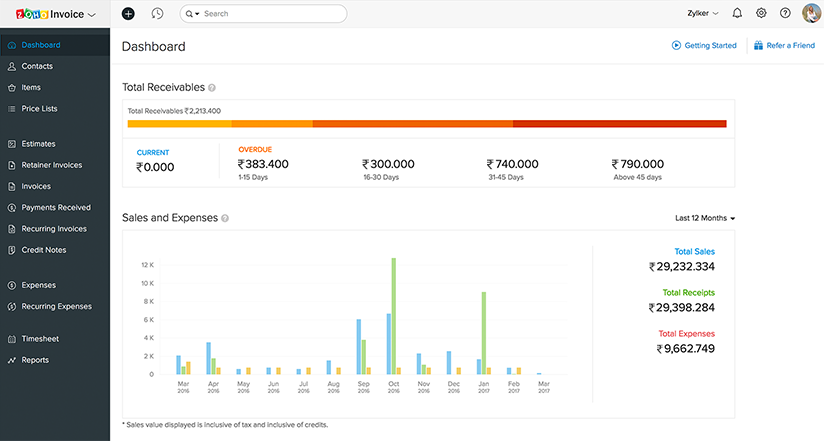 ZOHO INVOICE
Create professional invoices, send automatic payment reminders, and accept online payments with Zoho Invoice.
Create beautiful invoices using templates

Manage Projects and track time

Receive online payments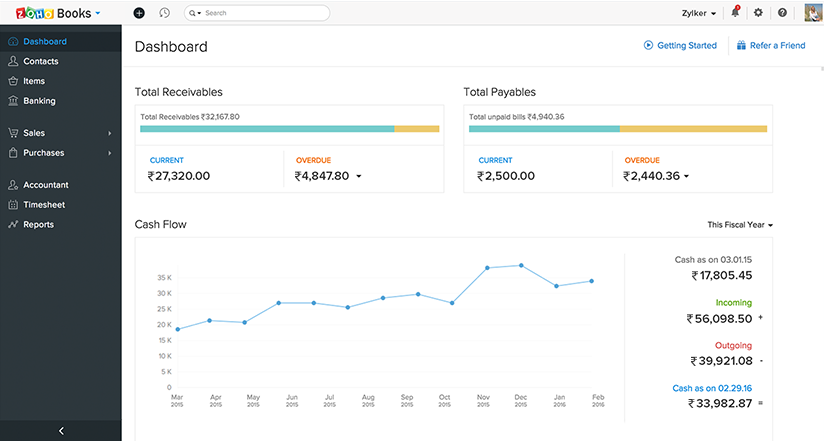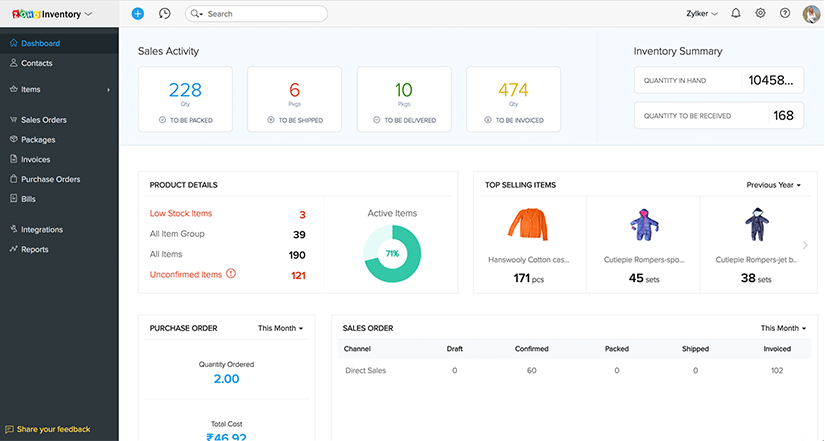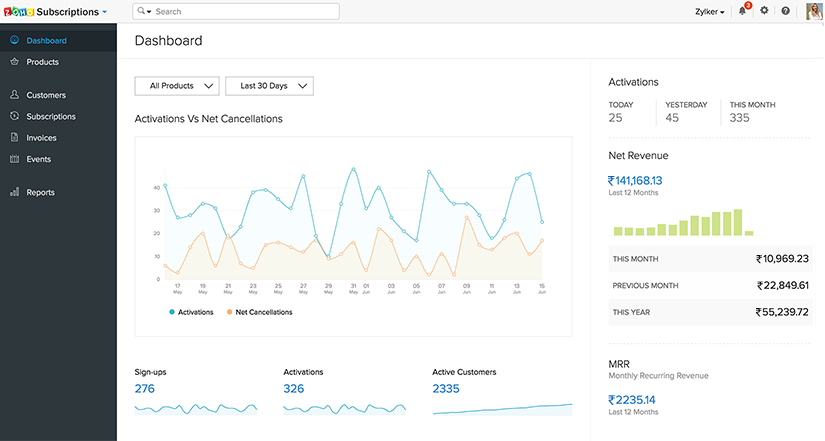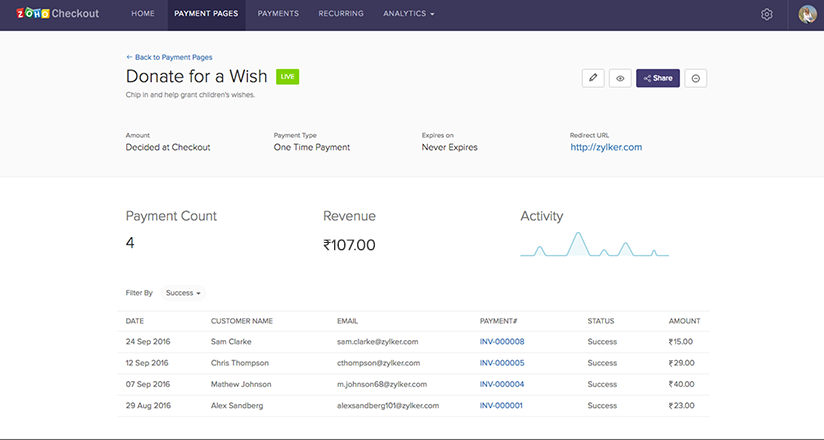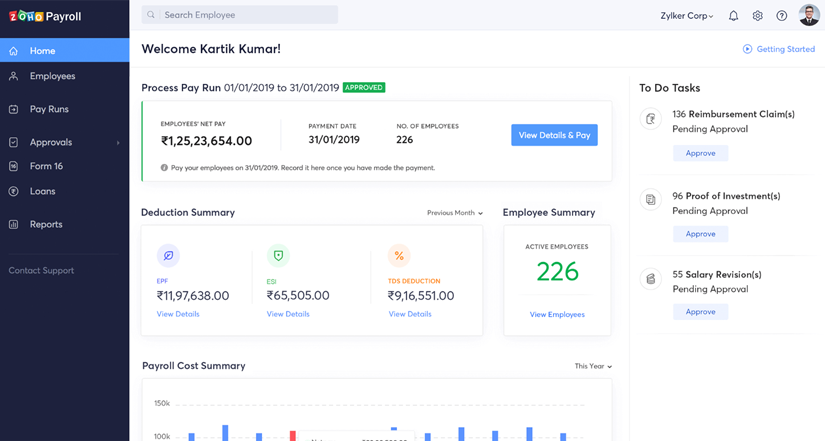 ---
Benefits of the Integrated Finance Suite for Businesses
Multiple apps, single platform
All Zoho Finance apps are built from the ground up to work together seamlessly. Information entered in one app will be reflected in the rest, which means your data is up to date at all times.
Improved quote-to-cash process
When salespeople generate quotes and orders in one application, they are immediately available in the others for appropriate teams to promptly fulfill the order, invoice the customer, and collect payments.
Subscription-economy ready
With the world moving toward a subscription business model, the Zoho Finance Suite equips you with a solid recurring billing solution while bridging the gap with traditional accounting.
Faster employee reimbursements
Zoho Expense automates your reimbursement approval flow, making it easy for your employees to claim reimbursements. All of their expenses fall into the right accounts automatically.
VAT-compliant solutions
Our finance apps are optimized to handle the single taxation structure of VAT to make your tax filing process as simple and convenient as possible.
Ease of Administration
With a single administrative console, it is easy to manage multiple users across different departments. You can add and provide role-based access to users to different apps from a centralized panel.